Leslie Earl Lincoln
| | | |
| --- | --- | --- |
| Birth: | | 02-Apr-1886, Nebraska |
| Death: | | 26-Oct-1963, Oregon |
| Marriage: | | 1909 to Belle Pollock |
| | | |
Paternal Lineage
Children
With wife Belle Pollock:
Notes
Leslie Earl Lincoln (his full name is shown on the WWI Registration card) was born in Nebraska (presumably in the Scotia area) when his father was homesteading there. The family then moved to California sometime after 1889 (see obituary of George Lincoln). From the US Census data, Leslie married around 1909 to a woman named (Nancy) Belle (maiden name unknown), and they had a child about two years later. The Census also eventually shows a Roy Johnson living in their household, a nephew. From the Census forms, Leslie apparently worked as a farm laborer. The 1930 Census shows them still living in Ventura, California, but he died at age 77 in Benton County, Oregon (Corvallis is the county seat). Nothing else is known of Leslie.
Leslie Lincoln took care of one of the sons (Roy William Johnson) of his sister (see Blanche Lincoln) after she was instituionalized. He apparently adopted the boy as Roy took the name of Lincoln. The 1920 US Census shows Roy living with Leslie and Belle at that time, and a California Death Index lists Roy's mother's maiden name as Pollock, which was Belle's last name before marriage.
Belle Pollock was born around 1888 in Iowa from the Census records. Her name is listed as Belle P. Lincoln in the 1930 US Census, and the Oregon Death Indexgives her death date as 08-Jan-1947 in Benton County, Oregon. She was around age 58 at death. He maiden name, Pollock, is from the Lincoln Family Tree written by Florence Phelps Lincoln (wife of Fred Lincoln, Leslie's brother).
Documentation is from:
US Federal Census
WW I Draft Registration Card from the National Archives via Ancestry.com
Oregon Death Index
Social Security Death Index
Lincoln Family Tree, written by Florence Phelps Lincoln
Documents

US Census - Saticoy, CA 1900

US Census - Ventura, CA 1910

WWI Draft Registration Cards - Leslie Lincoln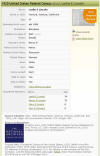 US Census - Ventura, CA 1920
US Census - Ventura, CA 1930

Oregon Death Index - Leslie Lincoln

Social Security Death Index - Leslie Lincoln

Oregon Death Index - Belle Lincoln
Lincoln Family Tree, p1 - from Florence Phelps Lincoln
Lincoln Family Tree, p3 - from Florence Phelps Lincoln

CA Death Index - Roy William Lincoln