John Lincoln
| | | |
| --- | --- | --- |
| Birth: | | 18-Dec-1749, Scituate, Massachusetts |
| Death: | | 24-May-1829, Durham, Maine |
| Marriage: | | 21-Nov-1779 to Ruth Stetson |
| | | |
Paternal Lineage
Children
With wife Ruth Stetson:
Notes
John Lincoln served in the Revolutionary War, enlisting on May 3, 1775 at the age of 25, serving 3 months and 6 days, and re-enlisting several times for short terms of service. Just before he turned 30, he married Ruth Stetson (she was 27). John was a grandson of Hannah Stetson (married to Solomon Lincoln), and his wife Ruth was the great-granddaughter of Hannah's brother (Robert Stetson). In Stackpole's, "History of Durham, Maine", page 214, it is stated a little inaccurately that they were cousins. Some of the documents shown on the side give more detailed information regarding the Lincoln-Stetson family connections.
The birthdate of John Lincoln is also somewhat innaccurate in Stackpole's "History of Durham, Maine". He states his birth as "18 (or 29) of Dec. 1743." However, from "Vital Records of Scituate", Vol. I, page 219, it is 18-Dec-1749, and his mother is listed as Mary (Neall). If John were to be born in 1743, his mother would have been Isaac Lincoln's first wife, Abigail Mellus. There is also no other recorded John Lincoln born around that time.
I cannot find documentation in books regarding the death of John Lincoln. According to Beverly Koenig of the Durham, Maine Historical Society, John Lincoln is buried in Sylvester Cemetery near Durham, and died 24-May-1829. Another personal communication with Blaine Lincoln (whose lineage is Thomas - Joshua - Solomon - Isaac - John - John - John - Leonard - James - John), also confirms this death date from personal family written histories.
All of the children of John and Ruth were born in Scituate, Massachusetts, according to Stackpole's "History of Durham, Maine", although these children, except for the first child, John, are not recorded in "Vital Records of Scituate". Stackpole mentions that John and Ruth moved to Maine in 1791, which is about one year after the birth of their last child. Stackpole indicates there was another child, Joshua, who died in infancy, but doesn't give a date. Also, their first child listed is John Jr., born in January, 1780. As John and Ruth were married in November, 1779, Ruth must have been 7 - 8 months pregnant at the time of the recorded marriage date. Intentions to marry were recorded 02-Oct-1779. This seemed to be not uncommon at that time, as a justice of the peace was not always available in country towns, and couples often recorded their marriage when such a person became available.
John's wife, Ruth, was born on 27-Mar-1752 (her birthdate is incorrectly stated in Stackpole's "History of Durham"). At the time of John's death, Ruth was 77 years old. She died about 5 years later at the age of 82, on 28-Jan-1835, and is buried in Sylvester Cemetery near Durham, Maine, along with her husband (from Beverly Koenig and family notes of Blaine Lincoln).
There are many descendants of this John and Ruth Lincoln living today in the state of Maine. Maps of the locations of Scituate, Massachusetts and Durham, Maine are shown below.
Documentation is from:
Vital Records of Scituate, Massachusetts to the Year 1850, Vol. I, page 219-220, Vol. II, page 181.
History of Durham, Maine, Everett S. Stackpole, 1899, pages 214, 253.
A Genealogical and Biographical Sketch of the Name and Family of Stetson, John Stetson Barry, 1847, page 23.
Personal communications - Beverly Koenig, Blaine Lincoln.
Documents
Vital Records of Scituate, MA to the Year 1850, Vol I, p 219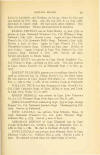 History of Durham, Maine, page 95
History of Durham, Maine, page 214
Vital Records of Scituate, MA to the Year 1850, Vol II, p 181
A Genealogical and Biographical Sketch of the Name and Family of Stetson, page 23
Lincoln-Stetson Family Connections
History of Durham, Maine, page 253
Vital Records of Scituate, MA to the Year 1850, Vol I, p 220