Elery Reuben Lincoln
| | | |
| --- | --- | --- |
| Birth: | | 31-May-1889, Scotia, Nebraska |
| Death: | | 18-Dec-1928, Bayard, Nebraska |
| Marriage: | | 14-Jun-1917 to Nellie Leora Whitman |
| | | 12-Feb-1927 to Hazeline Thorneberg |
| | | |
Paternal Lineage
Children
With wife Nellie Leora Whitman:
With wife Hazeline Thorneberg:
Notes
Elery Lincoln married Nell Whitman when he was 28 (she was 22). Nellie Whitman, born 30-Mar-1895, died of childbirth on 26-Apr-1925 at the age of 30. Elery then married Hazeline Thorneberg about two years later at the age of 38. He then died one year later of pneumonia. His daughter, Ruby (age 10 at the time), went to live with her Whitman grandparents, and his son, Eldon (age 8 at the time), went to live with his Lincoln grandparents (Robert and Ida Lincoln). Both Elery Lincoln and Nell Whitman are buried together in the Bayard Cemetery.
The US Census of 1910 shows Elery and his siblings and parents living in Bayard, Nebraska in 1910, and the WWI Draft Card shows he worked as a well driller before the war. In Bayard, he also did various jobs as a mechanic and plumber.

Documentation is from:
Personal communication with Ruby Lincoln Hill, daughter of Elery Lincoln, who also provided pictures and obituaries.
United States Federal Census.
WW I Draft Registration Card from the National Archives via Ancestry.com.
Documents
Elery Reuben Lincoln, age 26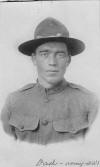 Elery Lincoln - WWI Photo
Elery Lincoln and kids Ruby and Eldon

Nellie Whitman Lincoln with daughter Ruby, 1918
US Census - Bayard, NE 1910
WWI Draft Registration Cards - Elery Lincoln
Obituary - Elery Reuben Lincoln

Obituary - Nellie Whitman
Headstone - Elery Reuben Lincoln
Headstone - Nellie Whitman