Fred Lincoln
| | | |
| --- | --- | --- |
| Birth: | | 13-Jul-1888, Scotia Nebraska |
| Death: | | 28-Oct-1976, Santa Paula, California |
| Marriage: | | 29-Mar-1914 to Florence Winona Phelps |
| | | |
Paternal Lineage
Children
With wife Florence Phelps:
Notes
Fred was born in Nebraska when his father homesteaded on a farm there. His father was 40 at the time and his mother was 21. The family moved out to California sometime after 1889 (see obituary of George Lincoln), shortly after Fred's birth. The US Census shows Fred to be a farmer in 1920 and then a janitor in a public school in 1930. He married Florence Winona Phelps when he was 25 and she was 21. Although he registered for the draft for WWI, it is unknown if he served during the was. Fred died in California when he was 88, in a town just east of Ventura.
Fred's wife, Florence Winona Phelps, was born 29-Sep-1892 in Missouri. She recorded much of the genealogy of the Lincoln family - Fred's ancestors and descendants - and it is shown at right. Florence died on 06-Apr-1980 when she was 87 in Ventura, California.
One picture of Fred Lincoln when he was a young man shows him in a uniform from the Odd Fellows association, and another shows Fred and his wife Florence in their later years (both pictures courtesy of Steve Gray, great-grandson of Fred Lincoln). The other two pictures at right show Fred when his uncle Robert Thompson Lincoln came to visit him in 1948 (Fred and his son Warren on the right, Nathaniel Lincoln, Fred's brother, on the left, and Robert Thompson Lincoln in the middle), and and a group picture of Florence and other relatives when Fred's cousin Allan Lincoln came to visit in 1958 (Florence on the far left, Allan Lincoln in the middle, Nathaniel Lincoln in the foreground on the right, Allan's wife Ila Lincoln behind Nathaniel, and Nathaniel's wife Dorothy to the left of Allan).
Documentation is from:
US Federal Census
WW I Draft Registration Card from the National Archives via Ancestry.com
Social Security Death Index
California Death Index
California Birth Index
Lincoln Family Tree, written by Florence Phelps Lincoln
Documents

US Census - Saticoy, CA 1900
WWI Draft Registration Card - Fred Lincoln

US Census - Los Angeles, CA 1920
US Census - Santa Paula, CA 1930
Social Security Death Index - Fred Lincoln

CA Death Index - Fred Lincoln

CA Death Index - Florence Phelps Lincoln

CA Birth Index - Warren F Lincoln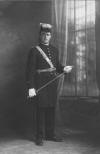 Fred Lincoln as a young man in Odd Fellows suit
Fred and Florence Lincoln
Fred Lincoln (2nd from right) with Lincoln relatives, Feb 1948

Florence Phelps Lincoln (far left in front) with Lincoln relatives, May 1958
Lincoln Family Tree, p1 - from Florence Phelps Lincoln
Lincoln Family Tree, p2 - from Florence Phelps Lincoln
Lincoln Family Tree, p3 - from Florence Phelps Lincoln